My grandparents have always played an important role in my life. I even lived with them several times. One such time was when I was 18 years old and had my first real job. I would awake, get ready for work, and then spend my remaining time watching reruns of Matlock with my grandfather, Mack, who always had a cup of coffee waiting for me each morning.
After I moved out on my own, Grandpa still made me coffee every time I came to visit. He even brought coffee when my grandparents visited me. It didn't matter that I had coffee pot of my very own. He still brought coffee just for me.
Grandpa brought me coffee any time he knew we would be together. This included family holidays like Christmas and Thanksgiving, when he knew there would be coffee already made. It didn't matter, grandpa still brought me a thermos of coffee. And I would drink his coffee before anyone else's. Coffee was our "thing".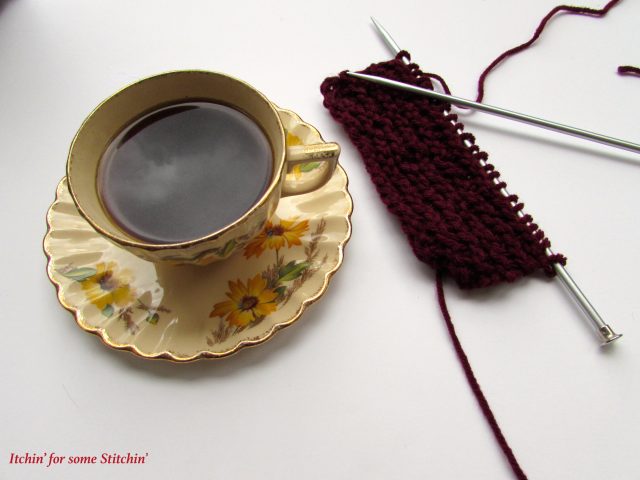 Knitting Plus Coffee Equal More Than You Think
On the day my grandpa passed away, I found myself in the kitchen making a cup of coffee. I was on autopilot, simply doing what made me feel close to him.
I drank it slowly. Savoring each sip and reminiscing over every moment I had spent with him.
My mind kept going back to all the times that I spent knitting and crocheting at my grandparents' house. Grandma and I would chat about our projects and drink the delicious brew grandpa made us while Bonanza or Gunsmoke, Grandpa's favorites, played on T.V. in the background. Often Grandpa would make a yarn run to JoAnn's or Michael's to feed our fiber addiction. Armed with his little notepad, he'd write down exactly what we wanted so he'd be sure to get it right. In the meantime, Grandma would show me her tricks of the trade.
You see, my grandma is an amazing crocheter and knitter. She loves to make special presents for family members or to donate to charity. In fact, the first crochet gift I ever received was a hat handmade by my grandma. Grandma has never been interested in selling her knitted or crochet works. Everything she makes is a gift. Even if the item goes to someone she doesn't know. This is because making handmade gifts is how grandma shows her love. It was during this reverie that I suddenly realized that coffee was how Grandpa showed his.
Simple Things Mean the Most
It was in this moment of realization that I truly understood how something so simple could mean so much. I thought about all those who had received grandma's hand-knitted or crocheted gifts and how much joy it must have brought to their lives. And I was inspired.
Inspired to follow in my grandma and grandpa's footsteps. Inspired to share a bit of love. Both with those closest to me and with those I may never meet.
I knit, crochet, and even sew gifts for family and friends. But I also do charity crafting. I donate to local hospitals and shelters, as well as The Prayer Shawl Ministry. I also feature a monthly craft for a cause on my blog. And, of course, I am a Goods Giving Back Ambassador.
I encourage you to spread a bit of your love as well. If you are a crafter like Grandma and me, your handmade donations can be the light in the lives of those who may need it most. If your craft is sewing, crochet, or knitting and don't know where to donate, the following charities would be happy to accept your handmade items.
Twiddlemuffs for Sensory Disorders
Of course, these charities are not your only options. I encourage you to do a little research and find the cause that motivates you. As crafters, we put a lot of time, energy, money, and heart into our crafts so make sure you are donating to the cause that speaks to you the most.
If you are a non-crafter, like Grandpa, you can still contribute by making a small monetary donation to your favorite charity or by purchasing an item on the Goods Giving Back website where a portion of the proceeds will go to a deserving cause.
I will forever be grateful to my grandparents for teaching me that showing love doesn't have to be complicated. And just maybe it shouldn't be.
The best expressions of love are simple.
They often don't come in the biggest packages, cost a lot, or have any fancy trimmings, but in the end they mean the most. A knitted hat, a crocheted blanket, a hand-sewn toy… a cup of coffee. The simplest things can make the biggest difference in our lives.
I challenge you to make a difference in the lives of others.
What are some heartfelt simple ways, handmade or otherwise, we can show others we care?
Until next time… Happy Crafting!
Save
Save
Save
Save
Save
Save